Today is the final day of mud run training (the race is tomorrow, did you
sponsor me yet
?).
Upon recovering from yesterday's mud-in-the-face bit, I decided it would be better to hold off on any more intentional dirtiness before the race. I have switched metaphorical tactics from "wading slowly into the pool" to "jumping off the diving board". Tomorrow will be the dive.
So today I have been picking out clothes for the race. Here's what I came up with so far: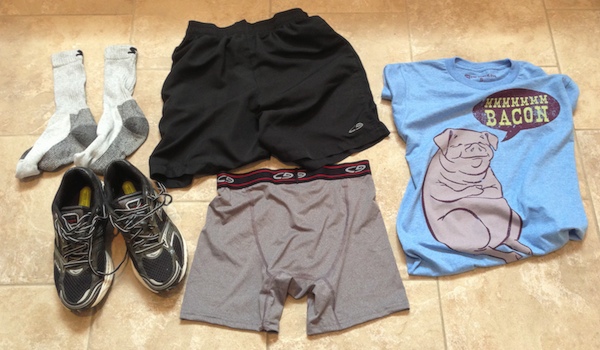 The rationale is:
Old running shoes, so they can be thrown in the donation pile after the race
Long socks to protect from scratched up legs
"Performance" boxer briefs to (hopefully) act as a little extra protection against mud exposure... I anticipate the moisture wicking fabric being like teflon against the mud
Shorts to be worn over the boxer briefs (duh)
Bacon shirt (duh again) -- this one is a bit small and tight, which is supposedly advantageous sizing in a mud run situation
That's right, I showed you a picture and offered a rationale for my running undershorts. Please donate so we won't have to do this again.
Thank you for your support.
As part of today's mud run training (and further incentive for you to
sponsor me
), I increased my dirt-tolerance quotient by allowing my kids to throw mud at my face.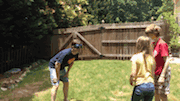 I apologize for the slightly large size of the animated gif (I usually try to keep graphics much smaller than that). I just thought it might have a bit more impact that way. Plus, animated gifs are all the rage this year, aren't they?
The kids originally thought that they were allowed to throw the entire bucket of mud on my face... I had to explain to them (twice) that they were allowed only a handful each. I was glad for a nice shower afterwards.
Now, if you haven't donated to The Art of Curing Matt yet, hurry over to my Sponsor Me in a Mud Run page and do it before you forget!
First off:
huge thanks
to those of you who have sponsored me already. If you haven't donated yet, please take a quick look at my
Sponsor Me in a Mud Run
page to learn about
the great cause
I am helping to raise money for, and please consider even a small donation. Every dollar helps!
As part of my last-minute training for this event, I will practice getting dirty a little more and a little more each day. Here is day 1:
Hey, you gotta start somewhere. Georgia red clay is very... mushy.
It is also important to set proper expectations. I knew that a mud run would involve mud and general dirtiness, but I'm not sure I appreciated quite how much filth is involved until I looked at a few "What to expect in a mud run" articles last night.
There are frightening stories comparing post-mud-pit to being an unwiped baby, and warning runners who don't normally wear underwear (really?) to buy some nice long spandex. Apparently you have to be very careful not get your shoes sucked off in the pit too -- some folks use duct tape to secure them to their legs -- and people advocate taking a running belly flop leap into the deep mud rather than going feet first.
Horrible.
Some of the important points seem to be:
Don't swallow the mud (never been a problem before, but maybe that's easy to forget)
Wear tight-fitting clothes; loose clothes get very heavy and saggy
Either wear sneakers that are easy to wash, or ones that you don't ever want to wear again (many races have a donation pile where you can dispose of nasty running shoes)
Consider wearing gloves for the crawling and climbing
So it seems that I should wear spandex, rubber shoes, and gloves. If I add a cape I'll be a superhero. I'm considering shin guards and a surgical mask too. Maybe goggles.
Short version:
please help me raise money for
The Art of Curing Matt
. You can sponsor me in a mud run this weekend! Just go to
the donation page
and follow the instructions. If you have the closest guess to my actual finishing time in the race, you'll win a prize! I don't know what the prize is yet, it might be something silly... your suggestions are welcome in the comments.
Longer version: I know that a lot of people have been asking for donations for various charities recently -- people in the "formerly known as the Lotus Community" and elsewhere -- but please take just a minute to read this.
Troy Reimer is a good friend of mine. I worked with him at SNAPPS a few years ago, he's an excellent programmer, and he's a really really nice guy. You might have met him before, or seen him speak at a conference, or used some of his code. Even if you don't know him personally, you're only one degree of separation away from him as you're reading this.
Two years ago, Troy's 10 year old son Matt was diagnosed with a genetic disorder called Adrenoleukodystrophy (ALD). Click through to the About ALD page on the Art of Curing Matt website for details on what ALD is and what it does to those who have it. Because it's a relatively rare disease, there is a very limited amount of research into treatments and potential cures.
The Reimer family is putting together an art auction to raise money for the Myelin Project, a non-profit organization that funds research for diseases like ALD.
I won't be at the art auction this weekend, but I wanted to try to do something to help raise money and awareness.
On the same day as the art auction, there is a mud run near where I live. People who know me also know that I don't like dirt. Or getting dirty. Especially not intentionally. However, I will allow myself to get covered in mud and other outdoor woodsy filth for a cause. So here's what I'd like you to do:
Go to the Mud Run donation page on this site
Use the big "Donate" link make whatever donation you can (NOTE: I am not collecting any money myself, it is all going directly to the charity)
Click the "Guess The Time" link, and guess how fast (or slow) I will run the race
Give yourself a pat on the back, then go and tell other people to do what you just did
I don't really have any good way to track the money that I'm personally raising -- I'd like everyone to donate directly instead of going through another site that would charge administrative fees -- but I will maintain the list of guesses about my race times. Hopefully that will result in some small amount of competitive activity to keep everyone engaged for a few days.
I will also post pictures this week during my "training" as well as after the race, for the curious.
THANK YOU.
p.s. - yes, this is very last-minute. But every extra dollar you donate is a dollar that the researchers would not have had otherwise.