I didn't take many pictures (again) at Lotusphere this year, but the ones I did take were with my iPhone and published via
Instagram
and Twitter. None of my people pictures turned out very good, so it's all just "stuff" pictures. Luckily there's a whole
Flickr stream
being filled by people who had much better cameras (and camera skills) than me.
OK Go rockin' the Lotusphere 2012 OGS

Beautiful day at the Dolphin

Took a quick break to enjoy the weather

Stumbling towards Kimonos

Swirly circley LS12 logo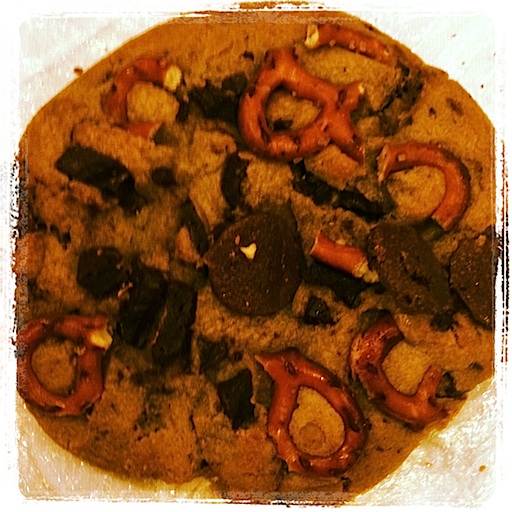 Pretzel Cookie!!!

Atrium at MCO

Sitting on the wing

Awesome gifts from awesome people (not pictured: Wisps!)
If you're in the final stages of planning for
Lotusphere 2012
and you want to get all your "must see" sessions on your mobile calendar, here are four options.
Option #1: LSMobile App on your iPhone/iPad
The easiest way for me (since I'm an iPhone kinda guy) is to use the LSMobile iPhone App (also available for iPad, optimized for the larger screen) written by Tim Davis at The Turtle Partnership. With that app, all you have to do is open a session you're interested in and tap the action button at the top right of the title bar to bring up a "Session Actions" sheet at the bottom of the screen. From there you can tap the "Add to Calendar" button to add the session information to the calendar on your phone. As you can see from the screenshot, this is also an easy way to tweet about a session or check in to it on Foursquare.
Option #2: The Genii Software Sessions Database
Once again, Ben Langhinrichs has imported all of the Lotusphere session information into a free database that you can download and open in your Lotus Notes client. From the session views (by ID, by Track, etc.) you can select one or more sessions and click the "Add Selected To My Calendar" button at the top of the view. This will add the session information to your Notes calendar, and of course your Notes calendar can then sync with whatever it already syncs with -- Blackberry, etc.
Option #3: The IBM Social Business Online website
All people who are registered for Lotusphere 2012 should have received an email describing how to access and log in to the Social Business Online website, which is the official web and mobile web dashboard for attendees this year. The home page describes a few different ways to get the session content, including mobile apps for iPhone, Android, and Blackberry, and also a "Session Scheduler" tab on the main site that allows you to create an iCal export.

NOTE: this site is for registered attendees only. If you're not registered, you won't be able to login. Sorry.
Option #4: Write Your Own iCal Export
If you're a programmer and you just like doing it yourself, you can always take the Genii Sessions database and write an agent that creates a custom iCal feed** of your own, suitable for importing into iCal-compatible applications. To get you started with that (because I know that's what you really want to do anyway), here's a very basic and kind of limited iCal class I wrote a while back:
iCalBasic LotusScript Classes
You should be able to easily convert the example code into something that works with the session database and allows you to create an importable iCal file. If you're a Java sorta person, it should be a fairly straightforward port to Java (or you can just find an open source class to use).
** Special Note: yes, I know it's technically "iCalendar" rather than "iCal". But I don't really care because people know what I'm talking about anyway, and "iCal" is easier to type and sounds better.
If you're looking for a good way to start off the new year, try this:
Open your email inbox(es)
Select all
Mark as read
Archive
Obviously if there are things you immediately need to act on, you should still do them. But really, if you haven't gotten around to acting on those emails from a year (or two years, or three years...) ago, you just need to man up and let them go.